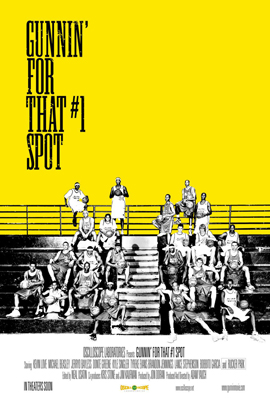 "Gunnin´ For That #1 Spot"
(Adam Yauch, 2008)
El director de este documental, Adam Yauch, también es conocido con el alias de MCA y es uno de los tres miembros de Beastie Boys. Actualmente está teniendo algún problemilla de salud, pero esperemos que con las toneladas de energía positiva que miles de fans en todo el mundo le habrán enviado en el último par de años, el Beastie tranquilo se recupere totalmente y pueda seguir tocando y haciendo videoclips y docus.
"Gunnin´ For That #1 Spot" es como una especie de versión reducida de la gran obra maestra de los documentales deportivos, "Hoop Dreams", de la que hablaremos en otra entrada futura: chavales de muy diferente background sociocultural que son de los mejores jugadores de baloncesto de todo EEUU se reúnen para jugar una especie de High School All Star Game en el legendario
playground
neoyorquino de Rucker Park. Si sois aficionados a la NBA, el documental tiene un valor añadido porque el docu se centra en ocho chavales, siete de los cuales han hecho carrera en la NBA (y uno de ellos, Kyle Singler, es el máximo anotador de la Universidad de Duke). Los que han tenido un mayor impacto han sido Kevin Love y Michael Beasley, pero también aparecen Jerryd Bayless, Tyreke Evans o Brandon Jennings.
"Gunnin´ For That #1 Spot" fue rodada en verano del 2006, y se centra en ofrecer un breve pero acertado retrato del entorno de cada uno de los chavales (desde el entorno WASP de Kevin Love al ghetto angelino de Compton donde creció Brandon Jennings), analizando el impacto que tiene la atracción del dinero del basket profesional en estos chavales que mayoritariamente vienen de un entorno bastante desfavorecido. A toro pasado es sintomático comprobar que ninguno de ellos completó su ciclo universitario, excepto Kyle Singler (blanco), que está en su último año con los Duke Devils. La última parte de la película ofrece imágenes del partido, con narración del mítico streetballer Bobbito García (no tiene precio el thrash talking de Michael Beasley).
Como os podeis imaginar la banda sonora está llena de temazos hip hop: Jay Z, Ludacris, Beastie Boys, EPMD, NWA (Brandon Jennings conduciendo por Compton), Public enemy ("By The Time I Get To Arizona", cuando aparece Jerryd Bayless), etc..
(Tampoco han salido todavía subtítulos de esta película, sorry!)
Spot