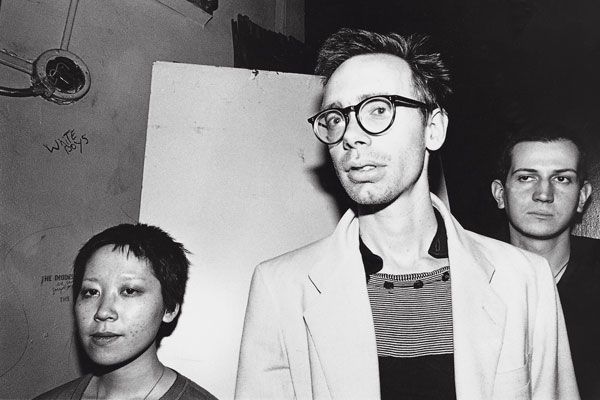 DNA
"DNA On DNA"
(No More Records, 2004)
La palabra "iconoclasta" sería la que mejor definiría las intenciones de DNA, el trio de Arto Lindsey. Normalmente es una palabra que no designa algo realmente "inconoclasta" sino ligeramente anti-establishment, como unos tejanos rotos o un piercing en el labio inferior. No. DNA eran
realmente
iconoclastas. Querían destruir todo lo que se había hecho hasta entonces y lo que vendría después. Lo que es innegable es que destruyeron conceptualmente todo lo que musicalmente se hacía en el Nueva York de finales de los 70 / principios de los años 80. DNA no dejaban títere con cabeza. La escena No Wave nos sirve para situar a DNA en su contexto cultural, pero en realidad su
approach
primitivista, tocacojones, ruidoso, de ritmos aparentemente deslabazados no tenía parangón en la escena neoyorquina. De lejos podían hacerte pensar en referentes igualmente iconoclastas, bajo el paso de los cuales ya nunca más creció la hierba: Captain Beefheart, Suicide, The Stooges/Velvet Underground, Stockhausen, Albert Ayler y el free jazz, Can. DNA escuchaban música étnica antes de que eso fuera un lugar común en los grupos de corte experimental. Pero DNA no suena a nada de eso. Se parecen a la lejía, si acaso.
El grupo tuvo dos formaciones: una con teclados y otra con bajos. Los dos elementos constantes fueron Ikue Mori (a la batería; después conocida en la escena experimental neoyorquina por su manejo del laptop y los teclados) y Arto Lindsey (cuya prolífera carrera artística es demasiado larga como para resumirla en dos líneas). En su primera época DNA contaban con Robin Crutchfield a los teclados y luego tuvieron a Tim Wright (antes en Pere Ubu) al bajo. Mi época favorita es la segunda, como una especie de This Heat menos cerebrales y frios. Siempre canciones secas, cortas, directas y una actitud genuinamente artie y do-it-yourself que influyó a multitud de bandas de la actualidad: Black Dice, Wolf Eyes, Liars, Erase Errata, Flying Luttenbachers, US Maple, Arab On Radar, Ex-Models y un -afortunadamente- largo etcéterea. Da mucha rabia cuando notas que un grupo se esfuerza al máximo por sonar extraño y retorcido (la expresión inglesa-americana "try too hard"), pero en cambio es genial cuando te das cuenta de que un grupo es capaz de sonar así sin esfuerzo, como es el caso de DNA.
El enlace que encontrareis más abajo recopila canciones de origen diverso: el EP que publicaron a finales de los 70, "A Taste Of DNA", los cuatro temas incluidos en "No New York", más grabaciones en directo (no quiero ni imaginarme el shock que significaba ver a esta troupe a principios de los 80) y tomas alternativas, inéditas, etc.. Todo el material es absolutamente imprescindible, DNA son una de las bandas más grandes y salvajes que jamás ha salido de Nueva York.
Si alguna vez os topais con el cd que recopila todo el material de la banda, no dudeis en adquirirlo. Incluye textos de Byron Coley (respect!), Jason Gross y Glenn O´Brien, además de flyers de la época, fotos, etc..
Os desgloso un poco el tracklist, porque quizá os mareais al descomprimir el archivo y ver que son 32 canciones:
1-2 "You&You" 7''
3-6 temas de "No New York"
7-12 temas de "A Taste Of DNA"
13 grabado en Canadá, fecha desconocida
14-18 en directo Squat Theatre´s Obie
19-23 directo CBGB 23 Jul 1978
24, 26 y 30 directo Columbia University 5 Marzo 1980
25, 27-29 "cinta Fiorucci", fecha desconocida
31-31 directo CBGBs último show 24 Junio 1982
DNA